Mom's Honey Garlic Keto Marinade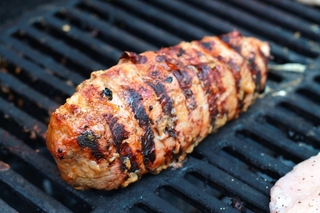 When my youngest brother started going to school all day, my Mom went back to work and I became a latchkey kid.
I would get home every day around 3 in the afternoon, usually to find instructions from my Mom on how to get dinner started. One day, she asked me to marinade some meat with this recipe and I've been using it ever since. It's become a staple in my cooking.
Before starting Keto I generally didn't measure much in my cooking (except for baking) but now that I'm watching my macros, I figured it was time to write this down.
I use it on everything – beef, chicken, shrimp, scallops – but my favorite use of this marinade is on pork loin. After marinading it in a ziplock bag, I'll usually put the whole thing into a sous vide water bath and cook it slowly for about 90 minutes at 129 degrees Fahrenheit. When it's done, I just throw it on a hot grill for 2 minutes on each side to sear it.
Mom's Honey Garlic Keto Marinade
1/2 cup of olive oil
1/2 cup of soy sauce
2 tablespoons of agave nectar or honey
2 tablespoons of minced garlic
Whisk it before you put it on the meat to help prevent oil separation and let it sit for a couple of hours before cooking.