Review: Highway 21 Turbine Mesh Motorcycle Jacket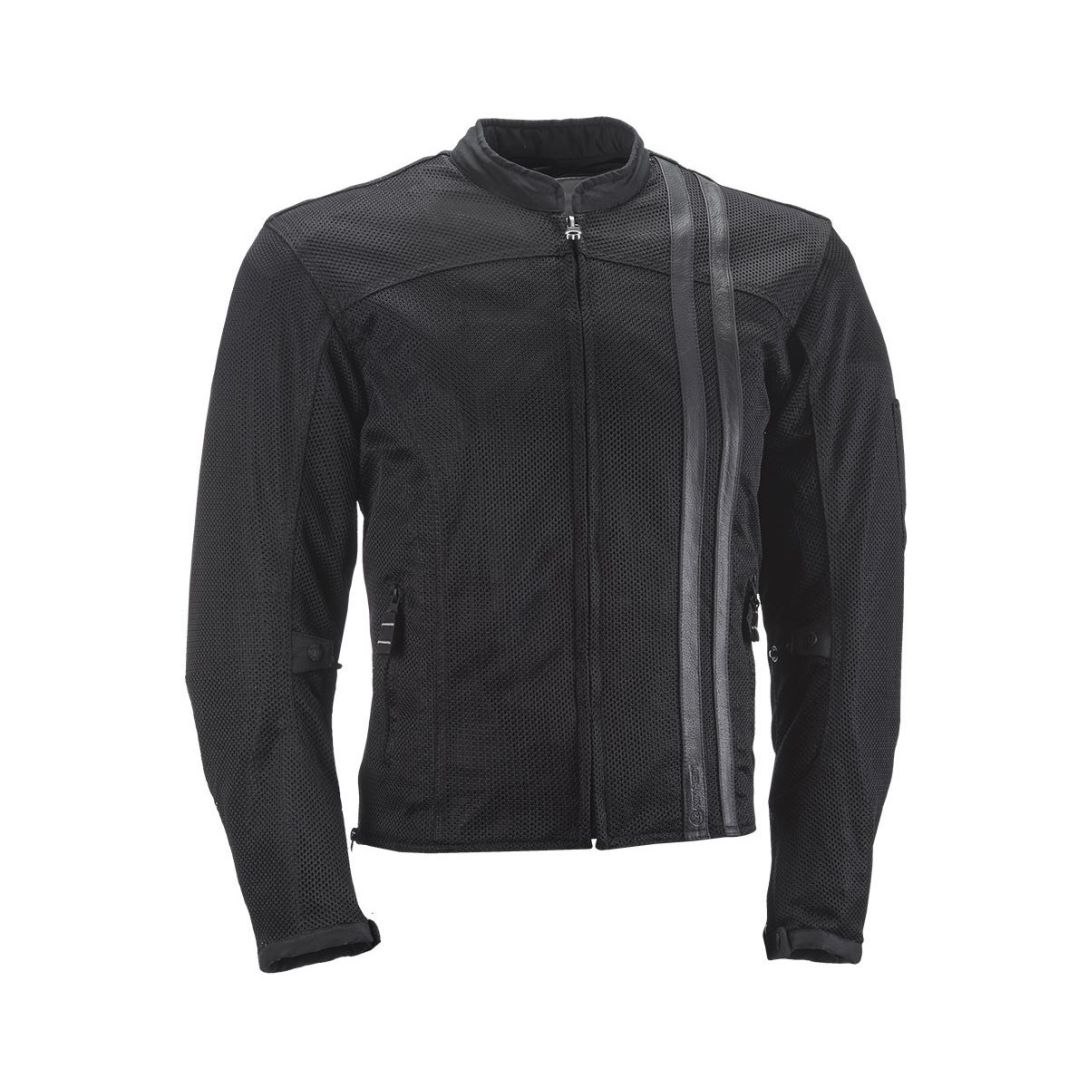 This is most definitely a budget jacket that I'm reluctant to say, I bought for its style. Riding in the Summer heat of Austin, Texas requires a mesh jacket and compared to most others, the design is simple and classic with only the single leather vertical strip. Branding is minimal.
The initial description indicates "CE Protection" but I bought it knowing full well that it would require an armor upgrade. The red flags are right in the description:
"Full bore mesh outer shell" (WTF does that mean? Where's the denier rating?)
"Removable PE Armor" (WTF is PE Armor? I could find nothing about armor that's PE rated on the interwebs.)
The jacket fits as expected – the size chart indicated that I needed a large and it fits well. There are side panel zippers if you need a little more room as well as Velcro tabs to tighten the waist, if you need a little less.
There's no zipper to attach to your pants but there is a tab and button snap so you can connect it to a belt or belt loop.
Construction is decent. The seams appear tight. The zippers don't move as smoothly as I'd like, but it's nothing a little beeswax didn't fix. The material around the collar could be a bit softer – a microfiber fleece would be nice – but, again, you get what you pay for.
My Hydraguard liner doesn't zip in – during assembly, a thread crossed over the liner zipper making it impossible to install the liner without cutting the thread – resulting in a failure of the outer zipper.
I have to take it to a tailor to for them to fix, adding more to the cost of the jacket. (I would have returned the jacket for a new one, but it was months before I even realized it was flawed.)
I wish there was one more snap to tighten the sleeves so that there's less free play but it's nothing I can't live with.
Now for the big upgrade: armor.
I think its flat out deceptive to call the junk they put in this jacket "armor". It feels like something you could buy at a craft store and will provide zero protection if you go down. Throw it out and replace it.
I spoke with a Revzilla Gear Geek who was very helpful and suggested that I buy D3O armor as it can be trimmed to fit the armor pockets if necessary.
Luckily, I didn't need to do that: the ICON D3O shoulder armor, elbow armor, and Viper back protector fit just fine. (The downside is that it's orange in color and can sometimes be seen through the jacket. Not a deal killer, at all.)
But that upgraded armor added an additional $70 to the cost of the jacket.
Will the mesh hold up in a slide? Probably not as well as a bombproof Klim jacket, but it'll be better than squidding.
In the end, this budget jacket will have cost me around $170 once I pay a professional to fix the zipper, all in the name of style.
Is it worth it?
Depends on your style.
I already own a hi-viz Fly Coolpro jacket. If I were to start this process over, I'd probably just purchase another one in a more neutral color.
[UPDATE:] Revzilla recently updated their video breakdown of this jacket, basically telling you everything I did here, right down to the jump up to the CoolPro. The only difference is that they believe it runs a size larger. YMMV.